Hopefully I'll have something more insightful to say about Australian culture after 3 weeks there. We leave tomorrow.
I had hoped to entice a Francophone friend to take over the blog in my absence, to chronicle her attempts to get service in French at chain coffeeshops in NDG and Westmount (it's funnier than it sounds), but she wasn't ready. In the meantime, if you really have nothing better to do, it's never too late to get in on the world's biggest inside joke at I Can Has Cheezburger. I'll be thinking of this one as I fly over the Pacific: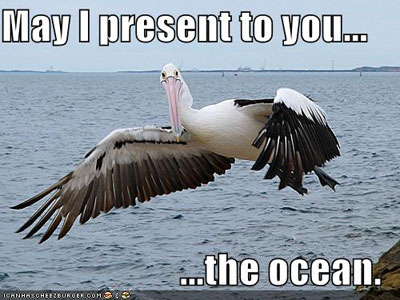 Update: in linking to their post, I used the google form in Firefox to type in "cheezburger pelican", which has an autofill feature. After I typed in "cheezburger" it finished the phrase with the following captions: cats, cat, .com, lolcats, lol cats, cat pictures, network.
Network?