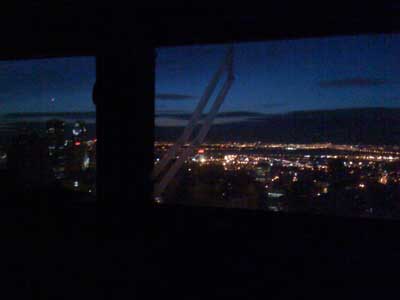 I spent the better part of the weekend after Feb 12th 2010 unconscious. Valentine's Day involved me in a recovery room and Carrie showing up in red. (This year it involved special valentine's tacos with pineapple salsa, but like idiots we figured Whole Foods wouldn't be crowded and we could just stop by after work). By the 17th I was getting my wits about me.
This is the first thing I'd see every morning upon waking up and I don't have the exact date on the photo, but this is the view out of my room, taken by me probably around 6am. The Montreal General is not a pretty hospital. To the contrary, it's in need of some serious infrastructure. But the real estate is prime and the view from my room was simply astounding, as was the view from the lounges.
I would ask that as these pictures appear to please separate in your mind the quality of care from the condition of the room. I do think Quebec ought to put a little more into the quality of spaces patients and their families inhabit, but as I wrote last year, we quickly got used to the room, just as I once got used to living in dorms.