I'm not much for using the blog to share works in progress or even discoveries that I hope to share in print, but this one's too good not to get out there right away.
So today while working on The Book I stumbled across this article, which is recommended reading for anyone interested in the history of digital audio.
There is a standard story about the history of the compact disc that says that it became a 74-minute medium because the then-president of Sony wanted to be able to hear all of Beethoven's 9th symphony without interruption. It turns out that's not the case at all, at least not according to an engineer who worked on the CD. Instead, he said, it was Philips, not Sony, who were pushing, and they were pushing for the CD to be close in size to the "compact cassette tape" (what I simply knew as "tapes" growing up).
Exhibit A: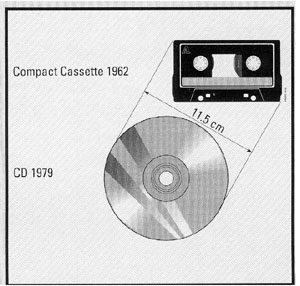 Now, it turns out that a CD is slightly wider than that — 120mm instead of 115mm, but the basic premise holds. And yes, the article also explains why CDs are 16 bit and 44.1khz. Not as arbitrary as we are usually told.
This story clearly is not nearly as sexy or as cult-of-personality as the "we did it for the pres" version but eminently interesting in its own right. The reference points for CD design were — surprise — common consumer electronics standards in use at the time.