Cast back out into the forest, we went back to looking for unusual places. One popped up in the paper that seemed intriguing. On Mont-Royal Est, it was a couple blocks east of the heart of the Plateau, not far from the Mont-Royal Metro and located near lots of shops and services. There was even a municipal parking a block away where we could rent by the month (finding a spot for your car is not an insignificant issue in the Plateau).
An old apartment that was being turned into a condo, the place was easily 2000 square feet and had a promising layout. There was one closed bedroom, two closed rooms at the front (his and hers offices?) and then room for living room, dining room and music. The kitchen and bathrooms needed some work. On the plus side, we were told that the place was pretty well insonorized from the upstairs and it certainly was well insonorized from the downstairs. But the downstairs was an issue: it was a restaurant. It didn't feel hot or anything but there was faint humming in one corner of the apartment (no doubt from the giant exhaust fan).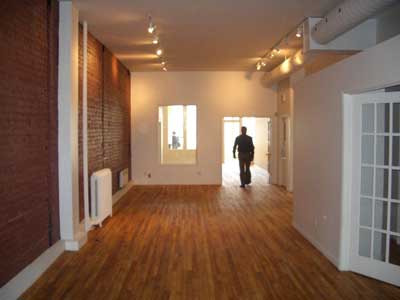 This is where things got interesting. The place had a lot of potential and a really awesome location (though for better or worse we would have a front row seat for every protest and parade to come down Mont-Royal), but the restaurant thing was a big issue: noise, smells, vermin and possibly fire were our concerns. So I asked around about what we could do. Some of the issues could only be determined with an inspection. But the thing that killed it was that when we called around to insurance companies, not a single one would consider giving us homeowners' insurance. This was, naturally something of a deal breaker, but we were still holding out. After all, there are people all over Montreal who live over restaurants. Oh wait, they're probably not insured. . . .
So I was out for drinks on Sunday night after a somewhat disappointing Marc Ribot show. One of my companions was someone I'd never met and when Derek mentioned we were both looking for housing, the conversation naturally turned in that direction. I told him of our problems finding insurance and he replied "oh, that place? It just burned. I live right by there." A drive by the next day confirmed. The insurers knew something we didn't. There had been a fire. You could see damage on the building up to the 3rd floor and the restaurant was boarded up. Sandra called their agent to find out and got the most amazing response. The seller's agent said the owner had had some "dealings with politicians" and that after a dispute she was beat up and left for dead as they lit the place on fire. Turns out she was hospitalized but fine, but come on now — I think "politician" isn't exactly the word I would have used to describe her business partners. Although the seller's agent said that the 2nd floor was "not affected at all by the fire," we very quickly lost interest in the place.