After the Mont-Royal disappointment, we continued looking. We began settling in for the long haul. After all, it was coming up on a year of looking and we hadn't found the place of our dreams.
On the first Sunday in June, Carrie was out of town but I saw a few promising places in the paper, so I went on my own. Of particular note was an old industrial space on Normanville in the Petit Patrie, just south of Rosemount. The place was a just-renoved ex-industrial space, on a mixed use block. At the end of the block was the old incinerator, decomissioned several years ago and now under consideration for a variety of uses. The area is in transition. North of Rosemount (the cross street at the corner), Normanville is one of the most beautiful streets in the Petit Patrie. South of Normanville, it's a little grey still, and there was at least one business still on the block.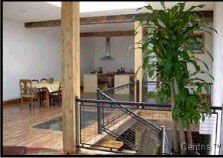 as I suggested in a much earlier post.
A few pictures are below. We're "moved in" but not fully settled. There is still much decorating to be done, there is no overhead light in the dining room and 3 months later, my studio still isn't hooked up. That's what winter break is for. . . .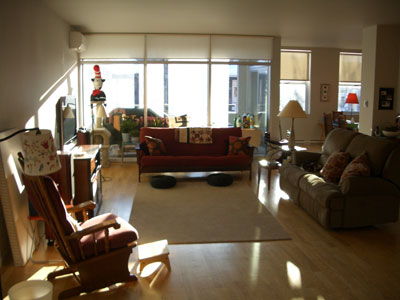 Posted byJonathan SternePosted inReal Estate Saga, Text