In May we visited Saskatoon, Saskatchewan for the annual conference of the Canadian Communication Association. As part of the Congress of the Humanities and Social Sciences, the CCA moves from province to province each year, meaning that if you attend long enough, you eventually get to see a lot of Canada. That has a lot of pull for immigrants like us, but it kind of works in reverse. Usually, when the conference is in a place like Toronto or Vancouver, they get a high turnout but people only show up to their panels and then go and do touristy things. For us, the exotic places are places like Saskatoon, perhaps because more chic and cosmopolitain Canadians turn up their noses at the prairies. So I guess this is a way of saying that we were the lame people who didn't go to many panels and instead explored the town and region. I intend to do the same when the conference visits other provinces I've never seen.
I think we were hoping that Saskatoon itself would remind us of Urbana-Champaign. It didn't really, but the slow talking, friendly people and the big, wide streets did have a familiar feel to them. We did a bunch of touristy stuff while we were there, but most memorable for me were the long drives we took out of town. The landscape is flat and you can see for miles, but every so often, it's dotted with a large structure of one of two types: a grain elevator or a church. Our first foray into the country was with Darin Barney, who's working on a book that deals with rural technologies like grain elevators, so we felt we had a bit of an expert guide.
The first thing we saw was this cool old church. You could see the shiny dome miles away: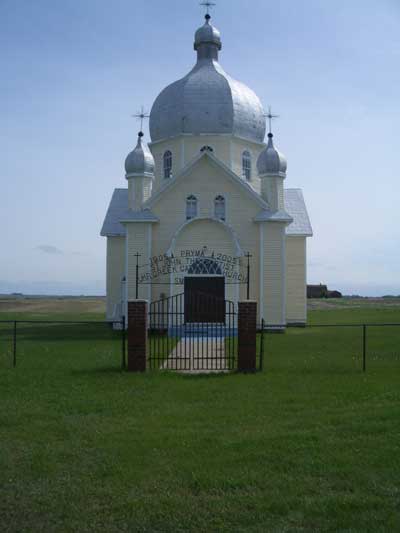 The church was near a few homes but nothing like a town. There were also some abandoned shacks that must have been for farm workers. On the grounds, we found a schnapps bottle (Carrie won a bet with Darin on that one — the nastiest possible alcohol that one could be drinking). And then there was the sign. The "town" we were in was called "Smutz" and even the church incorporated the name:

Cue the immature jokes. After the church, we drove around some more, catching a few grain elevators and an old Metis settlement and battleground (nothing was left except for a marker). This orange one was particularly striking.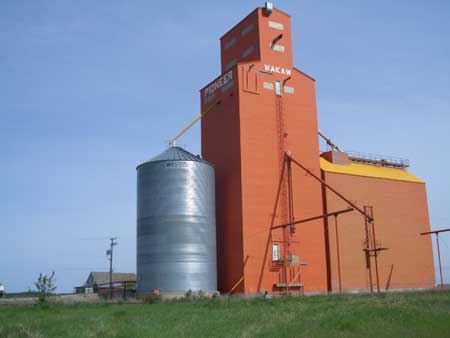 The countryside is big, empty and peaceful, and the collectivism behind something as simple as a grain elevator hints at an explanation of why Saskatchewan was, historically, one of the roots of Canada's great socialist projects.