. . .that I can't keep. But it's been quite a couple weeks, as we've gone from lizard. . .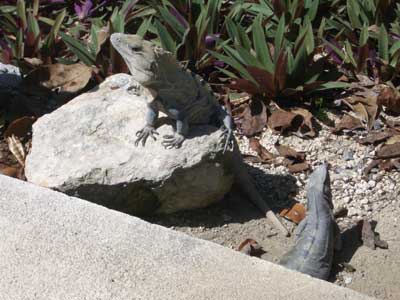 >
(on the grounds of the resort where we were staying)…
…to yet another blizzard, this one putting us within 30cm of the all-time record for snowfall. Here's a pic of where we would have parked our car if it weren't in the garage.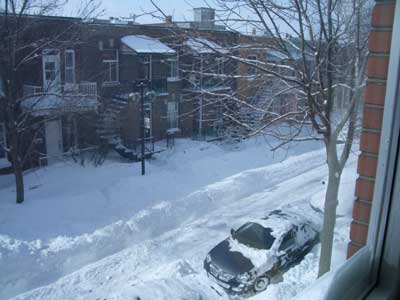 That's the good news. The bad news is that they have plowed our alley up to our garage but not far enough to get the car out. Not that I'd want to drive anywhere in the city for the next week.
I spent last week ramping back up to my various chair duties and attending some special events. It was also a big weekend for entertaining. Despite the awful weather, we fed 20 people over two nights. Saturday we had a dinner party for some colleagues and our esteemed former colleague Cornelius Borck. The fact that other guests actually left their homes attested to their love for Cornelius. Sunday, our Wire "study group" had its final meeting.
From the range of responses to the TV recommendations post, I can see that I ought to be blogging a lot more about television. I'll work on that. For now, I'll just link to one of the smartest things I've seen about my "we're living in the Golden Age of Television" hypothesis (well, I'm not original in thinking that) courtesy of Steven. I just think it's yet another reason why TV is so much better than movies.
Speaking of the Golden Age and all that, the end of The Wire marks the end of HBO's last good series in quite awhile. They haven't seemed to be able to get it together lately (perhaps, like a record label, the visionary people have left but the patina remains for awhile), while Showtime and a host of other networks (American Movie Classics? Who'd have thought?) are stepping up to fill the void. The year the mainstream networks tried to get "intelligent" on us was too much to hope for, but I'm glad that other networks are actually investing in quality TV now.
And while I'm on the subject of Intelligence, it's no surprise that CBC cancelled the best series in Canada (possibly on television, I kid you not) and about the only fictional TV series that could get Carrie and I to turn away from football on Monday nights in the fall, but it is disappointing nonetheless.