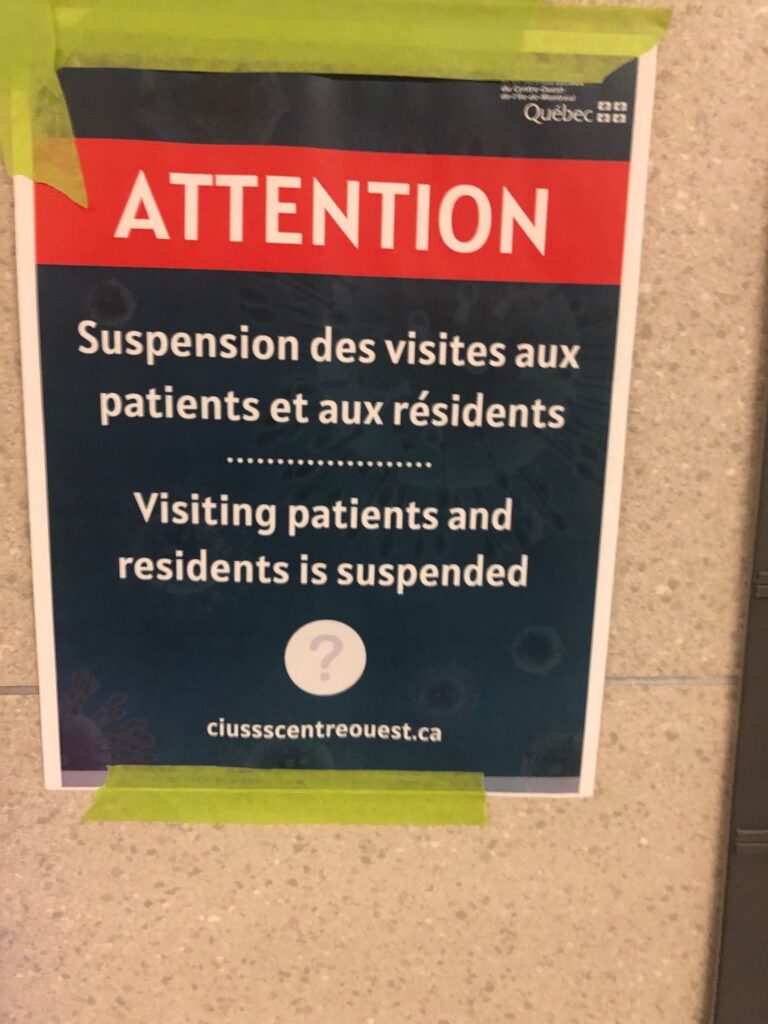 This morning I arose an a frankly disgusting hour (or so said by body) in order to get my blood drawn at the Jewish General Hospital at 7:30am. I wasn't sure what to expect. JGH, which is where all my cancer treatment happens, is also one of the hospitals in Montreal designated to deal with covid-19. I figured it was a risky endeavour. Pretty much as soon as I got there, I learned how wrong I was. Coming out of the parking garage (yes, I drove–no public transit for me for awhile), I saw this sad sign by the elevators. I had planned to document the whole visit, but it went by so quickly that I didn't get the chance.
Upon exiting the elevators on the main floor, someone checked with me regarding what my business was, asked me a couple questions about symptoms, and then gave me a mask. I then walked through the lobbies and to the elevators and rode up to the cancer centre on the 7th floor. Upon existing the elevators there was a nurse taking our temperatures and asking an interminable barrage of questions (I do not object, there were just a lot of them). Once inside, the cancer centre was as deserted as I've ever seen it. The bathrooms were all open (unusual!) so I washed my hands. There were people there, but just a few. The seats in the waiting area were all taped so that people wouldn't sit too close to one another, and they were almost completely empty. I went to the blood test room, gave them my info, walked out to wait, and was called back in almost immediately for them to draw my blood. The phlebotomist sat behind a plastic screen with a hole in it for my arm. Everyone was wearing masks and gloves. I also snuck over to the scale to weigh myself; the nurse there asked if I had a chemo treatment coming up–I said no, I was just curious and she complied. Then I washed my hands again, ran into a nurse I knew and chatted for a bit from behind our masks (at a safe distance), and then I headed out and home. I was back in my apartment less than 90 minutes after I had left. It's clear the Jewish has completely separated its functions so that I had no inkling of whatever Covid-crisis might be happening in another wing. Upon arriving home, I went and showered and put on fresh clothes. But if I'm honest, I think I am at greater risk going for walks, and I think Carrie is at greater risk buying produce or picking up my drugs. I will fearlessly go in for a blood test any time they ask.
—
So about that blood test: my doctor called and told me my tumour marker is the lowest it's ever been and everything else was good. And he was happy with my blood pressures. I confirmed with him that even if the government is stupid enough to open up Montreal in a couple weeks, that doesn't apply to me. I'm to stay home and remain socially distanced.
The diarrhea saga continues. I've been doing prophylactic Imodium, which works although is eventually constipating. We talked about dosages and other strategies. He's got other options if it doesn't work. But I'll be taking Imodium every other day prophylactically to see if it makes a difference. He confirmed that for most of his patients, what they eat doesn't matter so much. They just have diarrhea or they don't. So the experiment continues on that front.
We'll do it again in 4 weeks.
And hey, if you're reading this on Friday the 1st, go buy some music on Bandcamp.