This is just an addendum. When I said "Americans," I should have said "white Americans" and middle class white Americans to boot. I think it was Jerry G. Watts who, in an edited collection on the riots following the Rodney King verdict, wrote about the considerably more precarious experience of being poor and black in the U.S. and the degree to which a certain level of threat of violence is a part of daily life.
—
As if to fulfill my own prophesy, or verify my own critique, I (along with Carrie and Hajime) went along with our original movie nite schedule as planned. We dined at the new (to us) taqueria and then headed down St. Catherine to the AMC theater to catch a film. On the way, we passed this sign. . .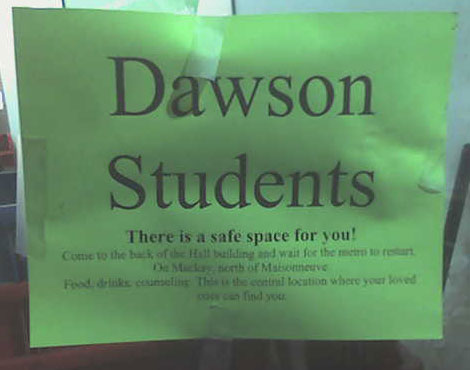 . . . which offers a little trace of the kind of terror and anxiety people closer to the shooting (and people closer to the people closer to the shooting) were feeling at the time.
When we arrived at the Forum, the AMC theaters looked like this: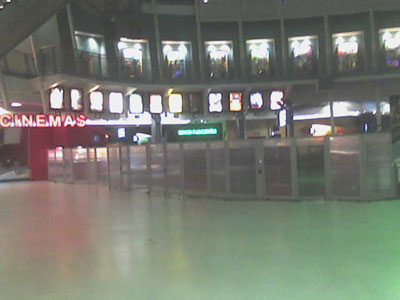 Closed. Dead closed, you might say. I can only imagine that when the whole thing went down initially, police closed down the whole area. Which makes sense since nobody knew what was going on. I hear that the metro wasn't running to the Atwater station, either. Violence shatters the everydayness of everyday life, and here we were, along with a few other confused couples. Foolishly–obliviously–expecting that it would already be put back together.