Today I went to CBC's studio for a taped interview. They were interviewing me about my "Inaudible City" talk at the Champ Libre conference last weekend. Which was really cool except there's something about starting at and speaking into a Neumann microphone . . .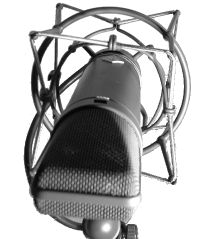 …that makes me feel considerably less eloquent than I do when speaking with others or talking on the phone. If I'm not mistaken, there is some historian of sound technology who's written about the radio-performance-effect. I think I read that somewhere. . . .
Anyway, the show is Cinq à Six and it's airing between (surprise) 5 and 6 on Saturday. And you should be able to get it online from their site.
—
In other news, the categories at the right have been proliferating. So I moved it below the links and blogroll. Nevertheless, I've only coded the summer and already it's looking like I talk about a lot of stuff. Whether all this categorization will be useful to anyone, I have no idea. But if there's one thing I like to do–besides make lists–is to place things in categories.