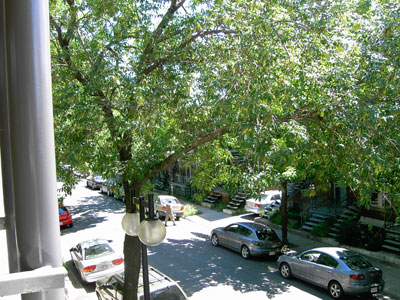 Well, we made it. We are in the new place, more or less (it takes awhile to settle in, you know). The computers work, the DSL works, the stove works (though it is a real PITA to get a gas stove hooked up in Quebec; on the other hand, we have a gas stove again), the satellite TV works, our stuff is put away (though in some cases it's still in bags or boxes — the studio isn't happening right now, alas). Amazingly, the grill fits on the loggia (that's a porch, dear readers, and the picture above is the view from the porch). We have a parking sticker for our car, our mail is being forwarded, the new residents of Chateau Frontenac are happily unpacking themselves, and we've even managed to explore the neighborhood a little. The stereo speakers are finally hooked up and we even listened to a record while cooking dinner tonight (U2: The Unforgettable Fire — the record collection needs some serious revitalization at this point but it's good for 80s alternarock).
Our only mistake? We didn't paint before moving in. That will have to happen with all our stuff here. Sooner rather than later, I hope, since there's no point in putting pictures on the wall until there's a fresh coat of paint.
The main thing, though, besides the fact that this is the nicest place we've ever lived, is that we're in a more interesting neighborhood.
Things within walking distance of our new abode:
Cheap, good ethnic food: Salvadoran, sushi, Lebanese, tapas, Vietnamese, Haitian, Indian, a gazillion italian places and a bunch of meaty places I'll never try
Groceries etc: a wonderful fruterie at the corner, several others nearby, an IGA , a bunch of latin American grocers, bakeries, and most importantly, the Marché Jean Talon (now we have to get one of those roll-y shopping baskets).
Services: metro Jarry, a cool video store, at least 2 coffee shops (1 with wireless, the other roasts its own), a luthier with amazing handmade basses on the wall (not like I need another bass right now), several drugstores, tailor, shoe repair, shoe store, a gazillion hair places for Carrie to choose from, doctors, dentists, at least one gym,
Other cool stuff nearby: the garment district (which is where I bought all the fabric for my vests a couple years back), Jarry park, the Boyer bike path (now all I need is a bike and to get in biking shape — maybe after the thaw).
Though we are further out, the commute to McGill is almost exactly the same as before given our proximity to the metro. Just so long as the green line doesn't go down.
Tomorrow is the first day of school, though Wednesday is my first teaching day. As usual, I'm looking forward to it. I'll have more to say about other things when I get the chance. But for now, I wanted to resurface.