There was much left unsaid in the blog in the past year, but I also left out some good pictures. So, in the spirit of the real estate series that told you what happened after it happened, there will be some pics coming your way in the next few days. If I have sometime intelligent for a Top 10 list, I'll make one. In the meantime, welcome to my 2007 photo catch-up.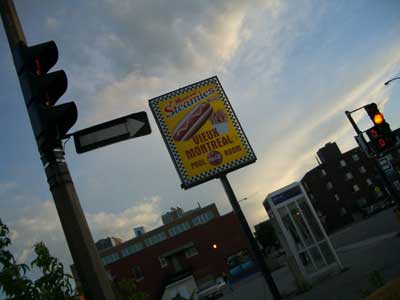 This one was taken out the car window from our old neighborhood at the intersection of Frontenac and Rachel. Despite a name that suggests an unspecified lewd maneuver, the "Montreal Steamie" is a steamed hot dog which has a bit of its own history. I'm not sure how old the "Old Montreal Pool Room" is and what's called that, since it's a long way from Old Montreal. But we drove by that sign every time we went up into the Plateau by car (unless we were foolish enough to take Sherbrooke) and on our way to and from errands at the nearby strip mall. We never went in — I figured it was a longshot for a veggie hotdog — but it had that dingy, local character of business in the area. It never had a ton of customers or a ton of cars parked in the lot but seemed to be doing fine. There wasn't a lot of interesting signage in the neighborhood(1), but that one consistently drew comments from us and from visitors. Though perhaps not quite as many as the "serveuses super sexy" signs in the topless breakfast joints once we explained the concept to out of town visitors. Note that the one pictured in the link is now out of business. I think it may be a sign of things to come.
I would guess that the whole area will gentrify some more soon. It's convenient to downtown (not that proximity to downtown guarantees anything — neighborhood ideology runs so strong here). There's a massive condo and townhouse development in the "Angus" area where there used to be a massive trainyard (complete with giant pictures of the old trainyards and the train station facade on the Loblaw's storefront). The condos are boring (yes we looked) but seem to attract a professional/middle class crowd that would have previously stayed north in Rosemount or east by Pie-IX in Maissoneuve. The effect isn't yet visible on existing storefronts in the area, apart from a natural foods store peeking out from a basement on Iberville. Even though I moved away, I'll be interested to see what happens and whether the Old Montreal Pool Room lives on.
—-
(1) The other business that went out of business during our tenure there was the "Depanneur Sans Limite" on Frontenac which we liked to call the "depanneur avec beaucoup de limites" since they never had any stock except for beer and cigarettes (not useful for us but probably for their clientele). Still, it was kind of sad as I'm sure it was a family business. There is now one of those video rental automat places in the storefront.